Inspiring locations for Florida Beach Weddings in St. Pete and Clearwater.
Pass-A-Grille Beach!  Our #1 Ceremony Hot Spot!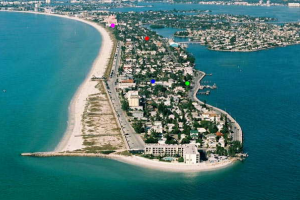 Pass-A-Grille Beach is one of the most beautiful beaches in Florida, and it's perfect for a wedding! For the following reasons it truly is our favorite Hot Spot for a St. Pete Beach Wedding on the Gulf of Mexico.
Gorgeous white sand with sunset views that encompass the curvature of the St.Petersburg      beach shoreline.
Old School Florida feel with vintage homes and no high-rise hotels or restaurants to block the wonderful big sky views.
Usually less crowded because it's away from south of the main restaurant and hotel districts that carry big parking lots.
Has a remote feel because of the historic homes and quaint atmosphere.
Parking for your guests is usually easy for morning and evening sunset weddings, and walking ramps are not steep or tough for guests to manage.
Within a few miles of every lodging and restaurant you would ever want.
Spectacular blue-green water at Pass-A-Grille beach will frame your ceremony like no other.
NO PERMIT FEE!
Pass-A-Grille Beach will not disappoint! The perfect spot for a treasured Florida beach wedding, vow renewal, or elopement. A day you will treasure the rest of your lives.
---
Sunset Beach
8000 W. Gulf Blvd. Treasure Island, Florida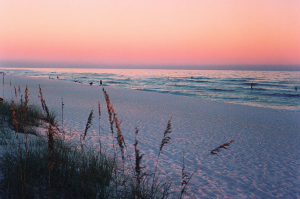 Sunset Beach is an amazing location off the beaten path toward the southern end of Treasure Island. It's so awesome that it might be a tie with Pass-A-Grille as our number 1 Hot Spot. There is a very reasonably priced pavilion for those looking for something that will host 50 people or less. There just is not enough cool things to say about this remote feeling location. It's truly a diamond and needs to be on your radar as a great Gulf Coast ceremony location.
Sunset Pavilion photo credit: Simon Crane Color Time Photography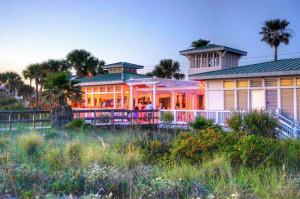 Escape the hotels and crowds to this quiet and private residential beach area.
Amazing views with powdery white sand to stage your ceremony.
The sea oat dunes and rock jetties will be your photographer's playground.
Great parking and easy beach accesses.
Incredible private sunset experiences that you will never forget.
The Sunset Beach Pavilion can be affordably rented and offers great options.
No Beach Wedding Permit Required
---
Ft. DeSoto Park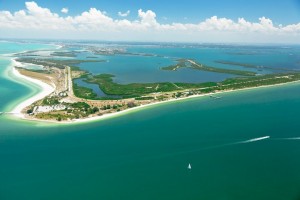 Fort DeSoto Park in Tierra Verde is located at the end of Pinellas Bay Way South, just before you enter into St. Pete Beach.  Fort Desoto is a pristine natural jewel! As a part of Florida's history dating back to 1849, Fort Desoto has been part of the Pinellas County Park System since 1962 and has been preserved to appear much as it would have back in the days of Hernando Desoto and Ponce de Leon. It's tropical beach setting and sparkling white sand make a beautiful setting for your St. Pete Beach Wedding!  With over 1,000 acres, the Pinellas County Park and Fort has no homes, hotels or businesses.  For couples with disabilities, you may drive on the beach with a park ranger escort in some locations to access your wedding. There is a permit fee of $150 and a $5 per car entrance fee for the park. Ft. DeSoto Park is a wedding favorite that you'll want to definitely have on your radar. The remote feel of how Florida once looked back in the day is one of the favorites for good reasons.
Located at the southern most tip of the St. Pete peninsula
Gorgeous award winning white beaches that extend almost three miles.
Beautiful views of the Sunshine Skyway Bridge and mangrove islands.
County Park that provides facilities and covered pavilion options.
Nature lovers will be in heaven with the trails, camping, fishing piers, and historic fort.
Vehicle access to beach ceremony for special needs is permitted with park ranger escort.
Views are free of any hotels, homes, or buildings of any kind.
Awesome opportunities for your photographer to capture amazing images.
Wedding Permit Fee is $150, plus a $5 per car entry fee to the county park.
---
Upham Beach – St Pete Beach

Upham Beach can be a wonderful location for a wedding. In a mixed residential area with a few high rise condos in the background, it is a picture-perfect location for a wedding. The best of beaches, and best of Gulf Coast. Paradise Grill is a great spot for a reception or if you just want a burger and beer. The large, lovely beach where the sun's always shining and there are beautiful sunsets make this beach a nice choice and is perfect for any of our St. Pete Beach Wedding Packages! Upham Beach stretches from from 67th Ave. to 70th Ave. at the north end of St. Pete Beach Florida. The best location spot on this beach is at the end of 67th Ave.  The Caprice Resort is at the north end of Upham Beach and is a great place to stay and walk out to our ceremony design just for you.
No Permit Fee is presently required.
Upham Beach is tucked into the northern end of the St. Pete Beach area, and has become a bride favorite to begin the rest of your lives together!
Location off the main traffic flow makes it a beach many don't even know about.
Soft white sand perfect to put your toes in when you say "I do".
Beaches here are wide and open for lots of options.
Sunsets that will take your breath away for a romantic ceremony you always treasure.
Framed with high-rise condos and private homes.
Just under 30 miles from Tampa International Airport.
Lots of metered parking available for this prime location.
$25 Beach Wedding Permit Fee.
---
Treasure Island Florida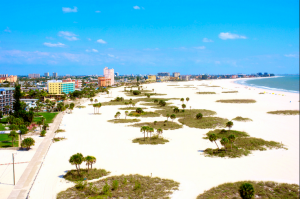 Treasure Island Florida is a wonderful location and Sunset Vista is one of our favorite areas for weddings! You must stay at Sunset Vista's Beach Front Resort to have your beach wedding, commitment ceremony, vow renewal or elopement wedding here. All of Our St. Pete Wedding Packages are perfect for this location. From an intimate romantic elopement, to a 100-plus wedding, Sunset Vista's Beach Front Suites on Treasure Island is right for you. Relax, enjoy, have fun and  celebrate your wedding with us at this tropical beach-front location. Group room rates are available and an onsite cafe can host your reception. Sunset Vistas offers 2 bedroom, 2 bath, condo hotels and each unit boasts a living room/dining room and kitchen. All units have a water view, with the best being on the north side of the building. Our preferred beach-front place to stay for breathtaking sunsets and dream weddings. Overlooking the calm blue water, and sugar white sand of Treasure Island's wide open beaches, you watch the sunset from your balcony. This is a perfect location for couples with children; it even has an adult and children's pool. The resort also offers a beach-front bar and picnic tables and a garden area with a peaceful water fountain and tropical plants.  Treasure Island is aptly named as it is a true gulf coast gem. Located just north of St. Pete Beach, it is easily accessible and a stunning setting for your destination wedding.
Post card beauty with sugar-like white sands and inviting emerald green gulf waters.
The beach here is huge so you have a good chance of having the event feel private.
Lots of lodging, restaurants, and shopping within walking distance.
Most hotels here welcome your plans to have your wedding on their beach if you are staying with them.
The sunset views are Amazing!
Exciting activities and events like Beach Fest Food and Music
Festival, Sports events, Guinness World Record Sand Castle events, and more!
NO BEACH WEDDING PERMIT FEE
---
Madeira Beach
The main public beach on Madeira Beach for weddings is located at 14400 Gulf Blvd. It requires a special event permit for beach weddings. There is currently no permit for less than 50 guests. Madeira Beach can be very crowded on the weekends, so it can be hard to find parking and a nice spot for your wedding. Sunset and Midweek (Monday – Thursday) are the days we recommend for weddings at this location. Tom Steward Kitty Park has a few parking spots and a small pavilion. It's located at 14081 Gulf Boulevard. If you're staying at a condo, home or hotel, please speak with them about having your wedding there. There is a very nice area for your wedding at the southern end of Madeira Beach, and we would be happy to show you this location if you are interested. It's the centerpiece of the gulf coast between Clearwater Beach and St. Pete Beach, with easy access and close airports.
Boasts some of the biggest and widest beaches on the gulf coast.
Huge vistas make it easy to enjoy the vast gulf and stunning sunsets.
High traffic area that offers lots of options for fun wedding party activities.
Sunrise and Sunset ceremonies are the best idea here as the beach is usually crowded during the day.
Parking can be a bit of a challenge depending on the time of day.
Beach Wedding Permit is based on the number of guests attending. Ranges from $214 to $321.