Sand Ceremony
A few symbolic moments after the Ring Exchange where the bride and groom pick up sand from the very spot they were married (can be in clam shells) and pour it together into 'one' vessel symbolizing their union in marriage. Clam shells are a nice added touch.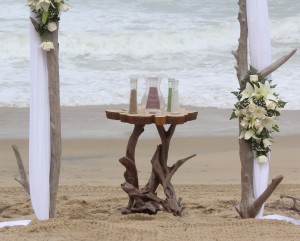 The vessel is usually glass and is up to the bride and groom to acquire and bring. Some couples choose to have their mothers or children participate with them in the Sand Ceremony.
It's much like the Unity Candle, but more beachy and an awesome keepsake. The beach can be "breezy" and candles tend to blow out. The Sand ceremony is a great replacement for the Unity Candle Ceremony.
Participation of the couples children is a great way to get them involved in the ceremony. You can also use colored sand for each person so that you make a design with each person's color of sand! Great keepsake to remember your wedding day on the OBX!
The sand symbolizes your life before this moment, all that you are today and all that you will become together. As you blend the grains of sand into one vessel, your lives will never be the same from that moment on.  This shows your affirmation of love joining your hearts together, just as the grains of sand will never be separated, so shall be your love as your journey and adventures of life come together as one.